Now that the Netherlands has extended the ban on events until September 1, companies are investigating which options are available. Webcasts, videos and livestreams offer the opportunity to spread a message and reach a large audience. SugarFactory, Bazelmans AV and BloemBloem have joined forces and transformed the – now empty – event location into a professional webcast studio.

Professional studio
In SugarFactory' large Pulppersloods, unique by its dizzying height and industrial pillars, professional livestreams, webcasts and interactive video productions can now be realised. Ideal for product launches or important conferences, when clients want to leave a professional impression. Denise Schimmel of SugarFactory: "We received many positive responses after our '1.5 metre events' article. By facilitating a professional webcast studio, we are now concretely responding to new opportunities. Thanks to our collaboration with Bazelmans AV and BloemBloem, we can continue to guarantee the high quality that people have come to expect from us".
The studio is equipped with three HD remote cameras and an HD static overview camera, which makes it possible to film from various angles for a dynamic image. Two 65" displays offer the possibility to play videos, presentations and graphics. The SugarFactory studio is also equipped with an extensive audio setup with various microphones and there is a complete lighting plan that allows the studio to be illuminated as desired.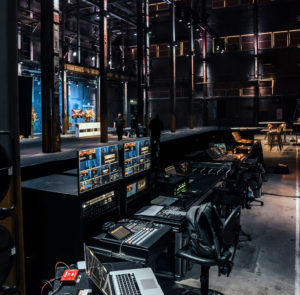 Transformation
The transformation from factory hall to studio requires both attention and skill. Bazelmans AV already has a studio in the south of the Netherlands and has all the professional equipment and technical know-how. "Due to the overwhelming demand for our studio in Veldhoven, we decided to set up a second studio. The studios each have their own unique look and feel", says Dennie Tenniglo of Bazelmans AV. The former sugar factory is well known territory for Bazelmans AV, where they have been the preferred supplier for all audiovisual facilities for a number of years now. Tenniglo: "The rough appearance and industrial elements of SugarFactory form the unique backdrop of our new studio.
For the set-up of the pop-up studio SugarFactory worked together with BloemBloem, specialised in dressing up events in the broadest sense of the word. Because, apart from the equipment, how do you turn a factory hall into a studio? Elise Kooi of BloemBloem: "We have created a studio setting that can easily be adjusted to each production. We have chosen to enhance the industrial character of SugarFactory with some beautiful eye-catchers such as distinctive flower creations on pedestals". The standard set-up is with an oval, white standing table, but there is more furniture available on site to create various settings. In addition, the entire studio is arranged in such a way that keeping a distance of one and a half meters is not a problem.

Interaction with audience
One of the biggest advantages of a webcast or livestream event is that there are no limitations on the size of the event. In theory, a worldwide audience can be reached, who all get the same message. Guest speakers or audiences can also join the conversation in the studio or ask questions by remote dial-in. This enables an audience to be directly involved in the event, turning it into a real 'live' event. For an even more dynamic experience, the studios in Veldhoven and SugarFactory can be linked to each other so that it is possible to switch between locations.
Some webcasts or livestreams require a secure connection, for example when exchanging confidential information. The studio in SugarFactory offers the option for a secured connection so that the message cannot be seen unintentionally by outsiders.
Unlimited
The possibilities of a live event are literally endless and can also be a valuable addition to an event in the future, when the restrictions are more lenient. Curious about what the possibilities are for your company? Contact SugarFactory to discuss the possibilities.